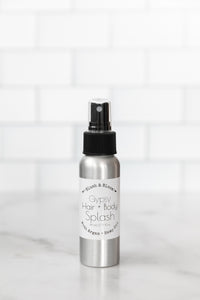 Get ready to fall in love from head to toe!
This fragrance splash is formulated for use on your hair AND your body. It is an alcohol free spray formulated with Argan + Hemp Oil so it will moisturize rather than dry! This fast absorbing, lightweight formula will leave a light beautiful sheen on your skin and add immediate gloss to your hair. Lightly spritz for a long lasting fragrance that you will love + all the benefits!
Ingredient Highlight: 
•Argan Oil: Gives hair immediate gloss and tames frizz. Softens and strengthens hair. Loaded with vitamin E, anti-aging properties and antioxidants that your skin will love! •Hemp Oil: Plumps tired dry skin and rejuvenates it for a more youthful glow. Nourishes your hair.